Shoutbox
hanuman01
:
Coximagination Challenge #6 details here. Message me if you would like to take part

Dec 29, 2019 22:26:12 GMT
GTA Content Creator Crews (GCCC)
| | | |
| --- | --- | --- |
| | Important: How to Join | |
Our PS3 crew and PS4 crew are application only! This means you must create a post in the welcome board in order to be accepted to the crew, as well as making sure your social club profile settings are visible described below.
The other GTA Content Creator crews are invite only (as apposed to application only) but are also inundated with requests so if you want to join the best, and quickest, way to join is through creating a welcome topic. No matter which crew you join we pick friendly players with visible profiles who want to help their fellow creators. Please check if you meet these simple requirements first!
Most of our crews periodically kick inactive members (that's those that no longer play GTA, we don't require members to be constantly tagged up as GCCC), focusing on muscle ranks, so if you're looking to avoid being kicked simply create a welcome topic, "like" our rules and claim your higher rank.
Before Joining
1. Set your profile visibility to "everyone"
2. Link your account for your chosen console to social club(e.g PlayStation Network for PS3 and PS4 crews, Xbox Live account for Xbox and XB1 crews)
3. Set the visibility of your linked account to "everyone"
4. Set your wall visibility to "everyone" or "friends & crew"
5. Set your game stats visibilty to "everyone"
6. Agree to our crew rules.
After Joining
1. You are free to set your profile, game stats, wall and linked account visibility to "friends & crew".
2. Join our forums and say hello in the welcome pages.
3. Create or review at least one custom creation for the platform you are moving to. We are a creator crew, after all.
4. Check out our events for your console on the crew's social club page and be a good sport to earn your promotion to Representative and then Lieutenant.
5. Help out in events, write useful reviews and you have a chance of becoming Commissioners. That's how they got there.
Going Next-Gen?
How to Change Your Settings (Visual Guide)
1. Log in to R* Social Club and click on the gear symbol

2. Then click on "Settings"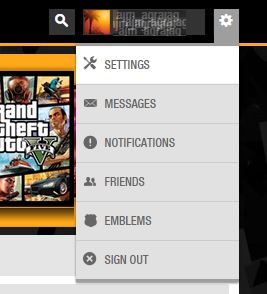 3. Click on the "Privacy" tab and make sure your settings are set as described above.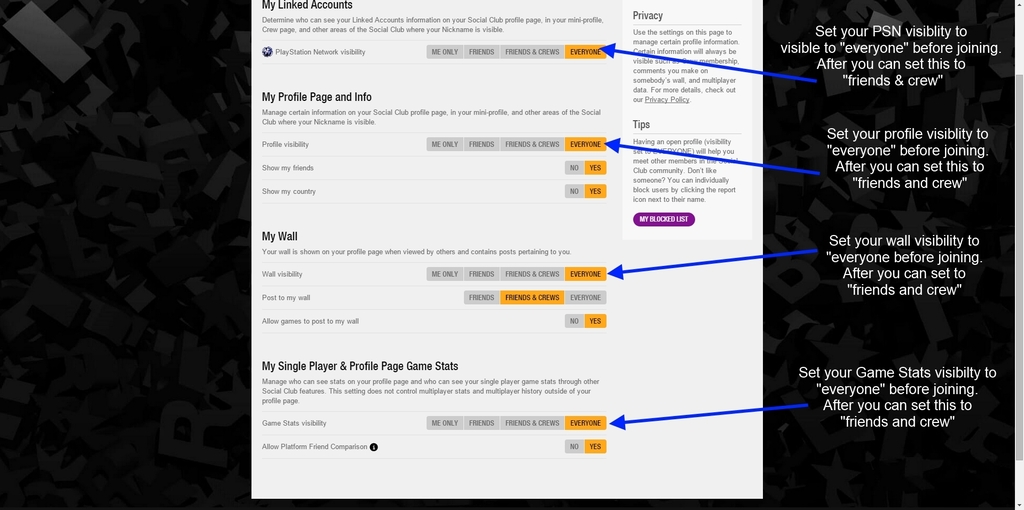 4. If you don't see the option to make your PSN account or XBox Live visible you may need to link your account. To do this click on the "Linked Accounts" tab and link your PlayStation network or XBox Live account.